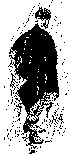 DIARY
of
CHARLES W. DURLING

The following is the war diary of Charles W. Durling, who served with Company G of the 45th OVI from August 7, 1862 to November 18, 1863, when he was killed in the siege of Knoxville. The diary itself, however, ends with the entry for August 2, 1863. A copy transcribed by Mary Jean Clouse is in the collection of the Ohio Historical Society.
During the year that Durling kept the diary, he participated in several engagements, including the 1,000-mile pursuit of Morgan's Raiders through Kentucky, Indiana and Ohio in July 1863. He also rose in the ranks, from private soldier to sergeant.

Most of the diary, however, concerns the minutiae of Union army life: preparing for inspections, pulling guard duty, marching long miles on hilly Kentucky roads. Durling was an opinionated and, at times, acerbic observer. When one of his tentmates died of illness and his captain refused the request of a comrade to accompany the body home, Durling called the decision that of "a very small soul" and noted that the captain was "fast becoming an object of hatred in (the) company." After watching the dress parade of a Kentucky regiment, he wrote that it was "equal to (a) monkey show" and scornfully called their officers "perfect dummies."

He could turn this caustic sense of humor on himself. When he and his comrades returned to camp after a hard ride with "our eyes, ears, and noses nearly stopped up with dirt" they felt, he wrote, "about as near like dummies as could be." He could also complain about the "terribly awful time" he had cleaning his quarters for general inspection and reminisce about having "lots of sport" in an intra-company battle with corn cobs.

Though he arrested a soldier for frequenting a "house of ill repute" he had an eye for the ladies himself . One entry describes how he "formed the acquaintance of couple of young Ky misses" and ate supper with them -- and then returned the following morning for breakfast. At the end of his diary, he twice wrote the name of a certain Josephina Hart of "Athens, Fayette Co., Ky." to whom he dedicated a poem:
I've wandered east, l've wandered west
I've born a weary lot
But in my wandering far & near
You never were forgot.
There are longeurs in the diary -- days and weeks in which, as Durling wrote, "nothing of importance happens." But even these passages convey the flavor of life in an Ohio regiment in a quiet sector, in which Union and Confederate pickets could, as Durling reported, "drink whiskey and play cards with each other" after declaring an unofficial truce in the Kentucky woods. Much of this life, given the eventual fate of many of the regiment's men -- killed in battle or dying in Confederate prison camps -- seems in retrospect idyllic indeed. This was especially so for Durling, who died the death of so many brave, dedicated non-coms -- in action, too soon.