Rea first served as a teamster, beginning on September 13, 1863. On March 30,1863, he was wounded in Somerset, Kentucky, in the 45th's first engagement of the war. The wound, to his leg, put Rea in the hospital and kept him off the muster roll until September 1863. It was to bother him for the rest of his life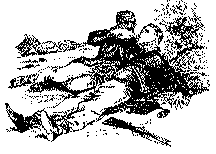 Rea was reported missing in action on November 18, 1863 in the siege of Knoxville. One field report describes him as "slightly wounded.in front of Fort Sanders." His prisoner of war record, however, notes the date of his capture as November 15. The same record says that he was confined in Richmond, Virginia on December 7 and sent to Andersonville on February 15, 1864, which if true would make him among the first lot of two hundred prisoners to be shipped off in boxcars to the prison.

Rea was released from Andersonville in the fall of 1864 and, after being confined in the stockade in Florence, South Carolina, he was paroled at Charleston, South Carolina on December 10, 1864. He was admitted to a military hospital in Annapolis Maryland on December 17 and was furloughed at Camp Chase, Ohio on December 29 until January 26, 1865. He was then absent at home in DeGraff on medical certificate from January 26 to June 7. In issuing the certificate an army doctor said that Rea "has been very low all the time since he came home with Camp Fever and Chronic Diarrhea, and is now just able to sit up a short time, and is not able to walk without assistance."

After his discharge on June 9, 1865, Rea continued to recover at home. In an affidavit for Rea's pension application written in 1890, a long-time DeGraff neighbor and a former corporal in Company E,  Jacob Loffer, wrote that "while confined in Confederate prison at Florence S.C. (Rea) contracted chronic diarrhea, scurvy and nervous debility and as we believe rheumatism. He was unable to walk owing to the diseased condition of his limbs, stomach and bowels from causes aforesaid as the results of exposure, starvation and inhuman treatment." Loffer added that Rea "laid at the very point of death for months after his discharge for I waited on him for months and his disability at present is almost total." Loffer stated that he was with Rea "in the same prison for thirteen months," but neither the regimental roster nor the National Park Service database list him as being at Andersonville.

In another pension affidavit, dated March 24, 1890, William McCally of Jackson Center, Shelby County, Ohio also claimed to have been a messmate with Rea at Andersonville and Florence. McCally wrote that Rea suffered from the same ailments that Loffer mentioned and added that "his disability has been continuous during each and every year from the time of his imprisonment to this date and that his disability is now about total."

Another long-time neighbor, Allen Graffert, wrote in his pension affidavit that Rea "was unable to labor for at least two years after his return. He added that "(Rea) has suffered continuously ever since, and (is) suffering now with dyspepsia and scurvy and its results. He complains constantly of pains in limbs, stomach and bones. Is stiff in joints and seems to have bad condition of blood. I believe him to be a physical wreck and totally disabled for labor."

Nonetheless, this "wreck" married Margaret Rebecca Moore on September 12, 1866 in DeGraff, Ohio. Together they had six children, beginning with my great-grandfather, Alva Lincoln Rea, on July 19, 1867.

Rea worked as a farmer in DeGraff after his return from the army and, in 1897, successfully applied for an increase in pension from the government claiming that lameness from his leg wound made it necessary for him to use a cane and made it impossible for him to do physical labor. He died on March 23, 1901 at the age of fifty-eight. His
obituary
was published in the
Degraff Journal
.
William Rea was born in DeGraff, Ohio on February 22, 1843. On August 8,1862, at the age of twenty, he enlisted in Company E of the 45th Regiment, Ohio Volunteer Infantry. In the company descriptive book, he is described as six feet tall with blue eyes and light hair. His occupation is given as farmer. His discharge papers, issued three years later, list him as being six feet two inches tall with a fair complexion, light eyes and light brown hair.

Grave of William and Margaret Rea in Greenwood Cemetery, Pleasant Twp., Logan County, Ohio. Photo by Mark Schilling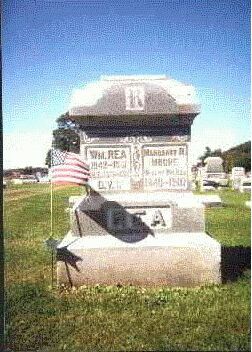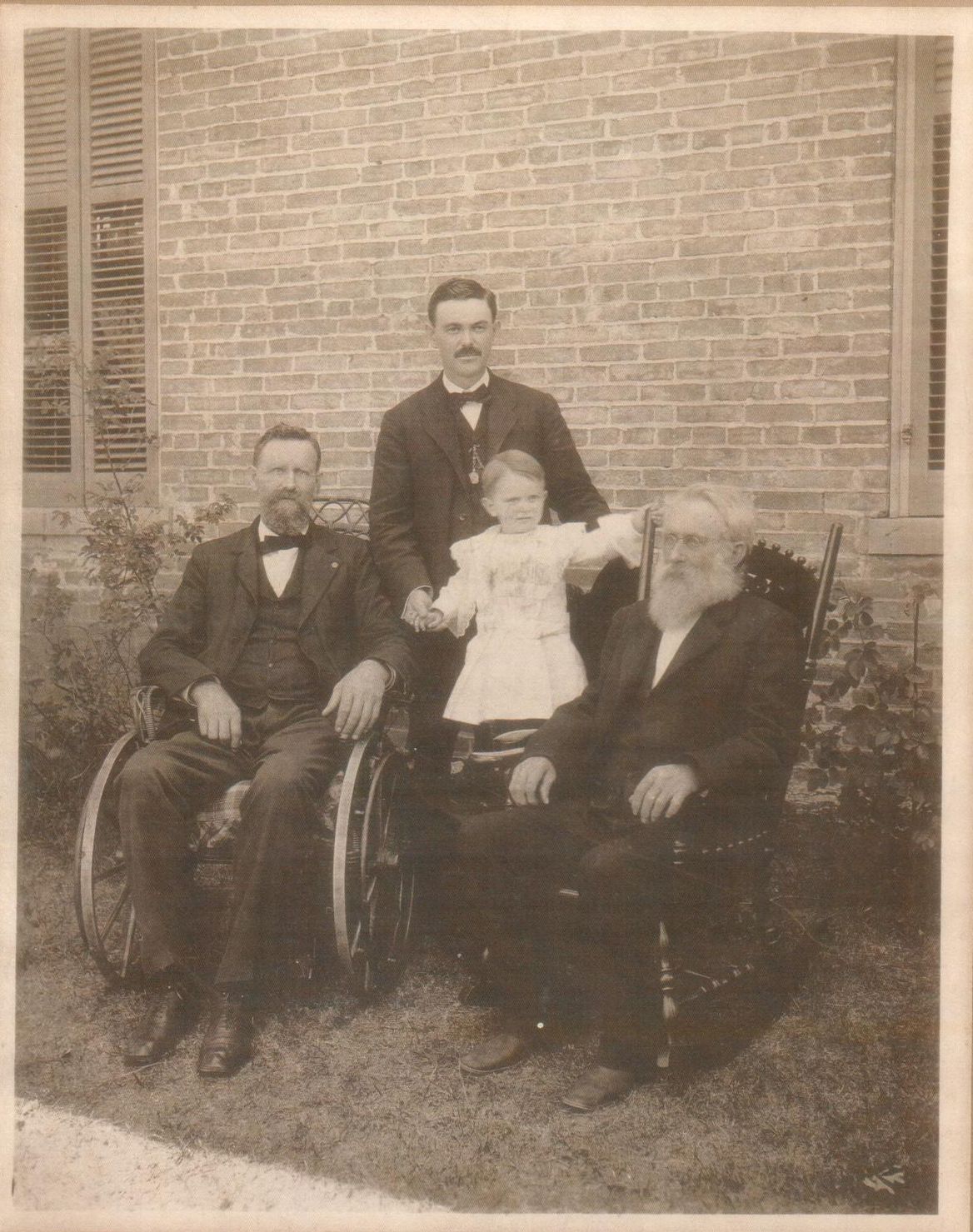 Four generations of Rea men: William (seated left), Alva (standing back), Stanley (standing front), Jonathan (seated right). Photo taken about 1900. Courtesy of Robert Strasser.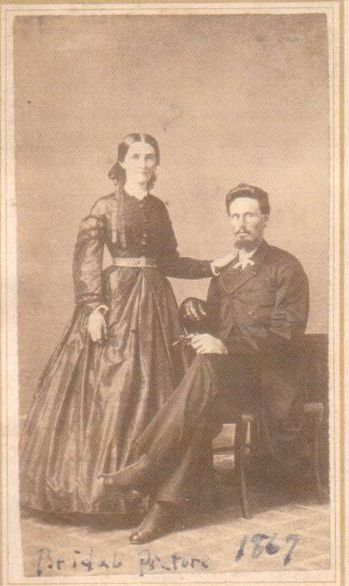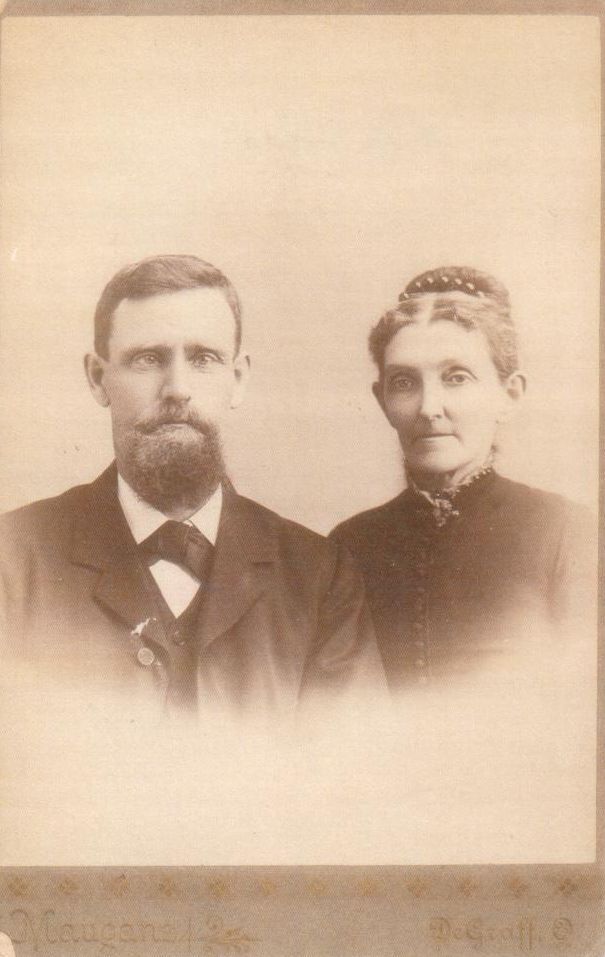 Margaret and Willam Rea in 1867, shortly after their marriage

Margaret and William Rea in middle age. Date of photo unknown.