The 45th hadn't seen much action in the Battle of Buffington Island, being held in reserve.The next day, however, under the command of Colonel Wolford, it pursued a detachment of about forty Confederates under Lt. Colonel Cicero Coleman that had become separated from Morgan's main force and was attempting to ford the Ohio River. At the foot of Coal Hill, near Cheshire, Coleman's troops crossed a bridge, rode another 300 yards and dismounted to await the Federals' arrival. When the advance guard of the 45th, led by Lt. Colonel Ross, crossed the bridge, the Confederates opened fire. In the ensuing confusion, Coleman and his group escaped on horseback, but when they reached  the top of a high bluff four miles away they  found themselves surrounded by General Shackleford's men and forced to surrender.

Following Morgan's escape, General Shackleford asked for volunteers to ride day and night, without food or sleep, until they captured him. Among the many who stepped forward, he chose detachments from the 45th, as well those from the 1st Kentucky, 2nd Tennessee, 2nd Ohio and various militia units. This 1,000-man force pursued Morgan and his remaining troops for another week, until his surrender on July 26 at West Point in Columbiana County.

Other units of the 45th, including Durling's Company

G, were assigned to guard prisoners on the steamboat

journey down the Ohio to Cincinnati, departing on July 23.After three weeks of hard riding, it was a pleasant change. "Still floating on the bosom of the old Ohio," Durling  wrote on the 24th. "Prisoners very quiet...plenty of apples  to be had." 


The war was over for most of his charges, but not for Morgan. On November 27, together with six of his captured comrades, he escaped the Ohio State Penitentiary and fled via Cincinnati to Confederate lines, where he resumed his career as a cavalry raider. He was killed resisting capture by Union troops in Greeneville, Tennessee on September 4, 1864.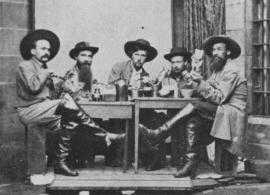 Morgan's men at Ohio State Penitentiary

Morgan's men at Ohio State Penitentiary